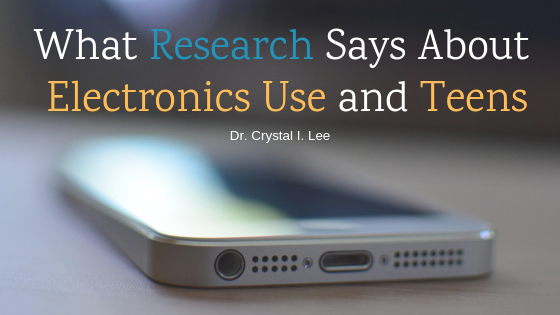 One of the parents in my Grown and Not (Yet) Flown group, an online support group for parents of teens and emerging adults, asked me to speak to the effects of electronics use on our teens and emerging adults, and I thought I'd share my findings it with my blog readers, too.
Instead of just talking anecdotally, I actually went to the research. I read a bunch of articles and shared some findings in my video and added some more findings in the body of this article.
Let me know what you think! Surprised? Confirmed what you already believed?
Learn 10 ways to manage your child's screen time.
Key Takeaways:
There's no long term association between emotional symptoms, hyperactivity, inattention, and peer problems and TV time and gaming.
Amount of TV time predicts conduct issues (e.g., behavioral problems, not following directions) in 5-7 year olds but not in older kids and teens.
Loneliness and depression drive internet use (not the other way around).
It's more likely that electronics use is a coping mechanism for mental health struggles. Before you take that coping skill away from your child, make sure there's something as effective to replace it with. Otherwise, you risk exacerbating the mental health struggle. A skilled psychologist or therapist can help you with this.
Having a cell phone present, even if just on the table or in your hand, is related to lower quality of conversations. This is beyond effects related to age, gender, ethnicity, and mood!
Other research findings not included in the video above:
Cell phone use is related negatively to GPA (e.g., more cell phone use means a lower GPA) and positively to anxiety (e.g., more cell phone use means more anxiety)
Extroverts are more likely to use their phones for entertaining themselves and enjoy texting.
Introverts are more likely to use their phones for socializing and connection; they prefer talking on the phone.
Those who rate highly on agreeableness are more likely to enjoy using their phones for calling (versus texting). They also have higher levels of interpersonal skills, which makes sense. Those that have lower levels of interpersonal savviness are more likely to text.
Cell phone use is positively related to how much people have face to face interaction. Meaning, those who are more social also use their cell phones more (to keep in touch with friends).
Lonely people prefer talking on the phone.
Anxious people prefer to text.
Females appear to enjoy texting more than males.
Receiving positive feedback on social media is related to positive levels of self-esteem and well-being.
Have a teen or emerging adult that's struggling with their electronics use? Visit our contact page to send our adolescent specialist, Dr. Jenifer Goldman, a message or schedule a free 20 minute consultation to see how she can help.