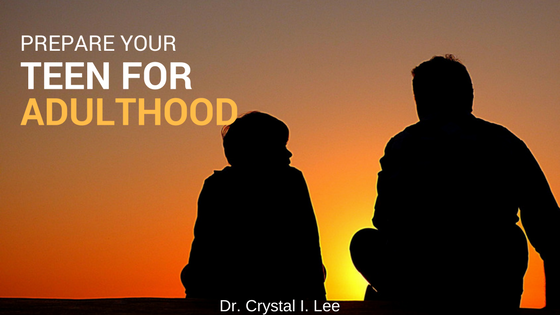 As high school graduation approaches, you may be wondering if you child is ready to take on all the responsibilities and pressures that come with adulthood. You might be especially worried because you've heard about the "failure to launch" crisis and "boomerang kid" trend that's impacting so many families across the nation. It's never too late to help your child become independent and more prepared for adulthood.
Here are some important skills to focus on:

1. Become Employable
The job market is still extremely tough, especially for young adults just starting out. Even if your child is heading straight to college, help her become more employable by building her resume early. Volunteering is a great alternative to a paid job. Through volunteering, your child will develop a work ethic, learn basic vocational skills, build his or her resume, and obtain a potential reference for the future. You might think your child is too young to worry about this, but if she doesn't start building a resume until when it's time to apply to jobs, she's behind the game and will struggle as a result.
 2. Learn "Soft" Employment Skills
Employers are complaining that applicants or their young employees are lacking basic "soft skills". These include things like being able to take direction, return from breaks on time, maturely manage work place conflict, handle ambiguity, and communicate effectively and appropriately with colleagues and supervisors. You can also teach these skills at home, through school, or through volunteering.
 3. Practice Money Management
Imagine an adult with a good job and decent income but who still can't seem to cover all of his or her expenses. Not being able to manage money adversely impacts quality of life. Have your child earn an allowance, and then make her responsible for some of her expenses. For example, your child can earn a weekly allowance through volunteering and then be responsible for all of his leisure time expenses.
 4. Develop Self-Advocacy Skills
Up until this point, you have probably been your child's advocate— helping him talk to his teachers when he's struggling with class material, reaching out to volunteer supervisors if she reports a problem, and things of that nature. When your child is in college or at work, you can't (or rather, shouldn't) be doing this anymore. Your child is an adult and should learn how to self-advocate. Next time your child is struggling, coach him through how to self-advocate instead of jumping in to fix the problem. Otherwise, your child won't know how to do this when she's out in the "real world" and will flounder.

Keep visiting the blog for more articles on parenting teens and emerging adults, or contact Dr. Crystal I. Lee for a free 20 minute consultation to see how she can help you successfully launch your child into adulthood.